Birthday Lawn Signs
What better way to surprise a friend or family member by having them come home to a happy birthday display on their own front lawn?
Birthday lawn signs are the perfect way to celebrate any birthday, especially milestone birthdays like someone's 30th, 40th, 50th etc.,
WHY ARE BIRTHDAY LAWN SIGNS SO POPULAR?
They're a cost effective way to make a big impact!
The cost of a lawn sign will vary depending on size, quantity and design, but they're almost always low cost, especially compared to the high value they offer.
Lawn signs are also durable enough to be displayed in pretty much any weather condition at any time of year and they will stay strong and secure.
The birthday boy or girl will be touched (or hilariously embarrassed depending on your goals) no matter what age they are.
You can go with a single lawn sign of any size or kick it up a notch with a whole arrangement of various signs including happy birthday lawn sign letters.
Birthday lawn signs can be customized to include a picture and name to make it personalized.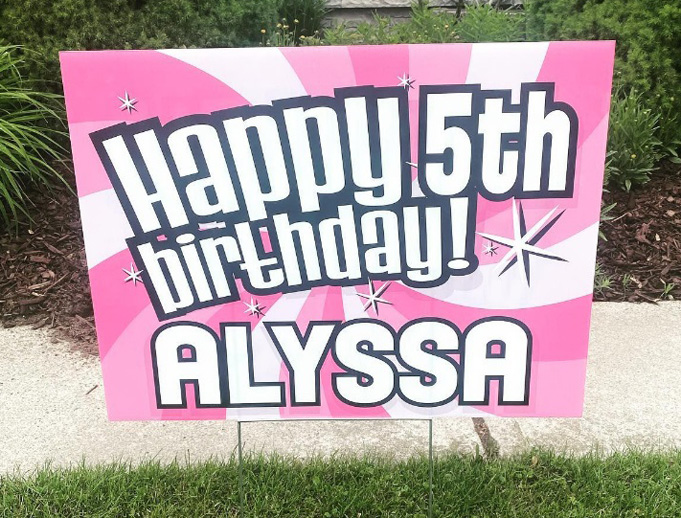 WHAT MAKES A GREAT BIRTHDAY LAWN SIGN?
Birthday lawn signs should be fun, colorful and personalized.
Birthdays are a time for celebration so the lawn signs should do just that, celebrate!
BIRTHDAY DECORATIONS FOR LAWN
What about other lawn items for birthdays?
If you're looking for a variety of ornaments and birthday celebration display items for your lawn on top of the signs themselves, we recommend Party On Rentals in Haldimand Ontario who offers a wide variety of fun birthday displays including:
Helium balloons
Balloon pillars
Balloon arches
Garlands
Bouquet of balloons
If you're looking for a personalized quote for lawn signs, please send in a quick quote form and we will be happy to get you more details.
Sticker-it Signs and Graphics is a leader in print and promotional services throughout the Hamilton, Haldimand and Niagara regions of Ontario.
Contact us anytime to discuss your next project.