HOLOGRAPHIC STICKERS
Whether you need to enhance the security and authenticity of a sensitive document or are just looking to add a beautiful sticker effect, holographic stickers are one of the more versatile options of custom stickers that we offer.
WHAT ARE HOLOGRAPHIC STICKERS?
Holographic stickers are stickers printed on a special vinyl material with an iridescent like effect. This gives the stickers an impressive rainbow sheen that flashes colors as it catches the light.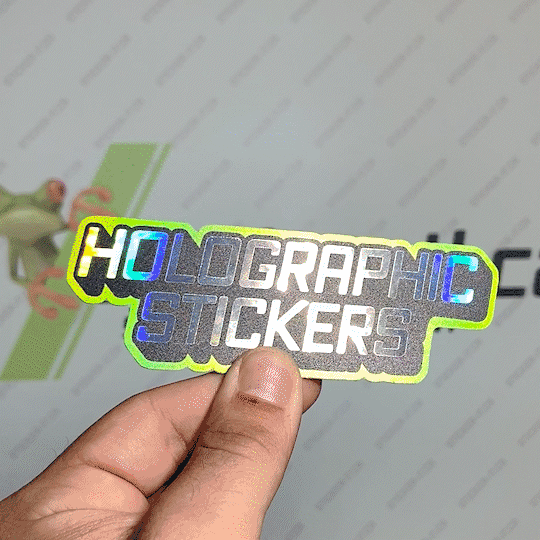 WHAT ARE HOLOGRAPHIC STICKERS USED FOR?
Yes they can be impressive to look at but they're more than just a pretty face.
1.\ SECURITY HOLOGRAMS
Since they're difficult to replicate, holographic stickers can be used on official documents to add an extra layer of security and authenticity which helps avoid counterfeit risks.
Gift certificates, membership ID cards and signed agreements are examples of the types of documents that can see a security benefit with holographic stickers.
2.\ ENHANCE A COMPANY'S IMAGE
Some businesses use holographic stickers on their packaging and products for similar security reasons but also as a way to add some eye catching flare to their inventory presentation.
This is most famously done by the likes of Microsoft and Apple but businesses of all sizes can take advantage of the same benefits as well.
HOW ARE HOLOGRAPHIC STICKERS MADE?
Let's get tech-ni-cal, tech-ni-cal!
Ok so first the actual holographic vinyl needs to be manufactured. It starts off as a very thin piece of metal that gets applied to a polyester film.
Next, the surface is thinly embossed which is what causes light reflecting off the metal to diffract, creating the cool 3D iridescent effect holographic stickers are known for.
From there it's just a matter of printing your sticker design onto the material with UV inks.
Need more than 3 years outdoors with your holographic sticker? Coat with a clear laminate to ensure your stickers are long lasting.
HOW MUCH DO HOLOGRAPHIC STICKERS COST?
Like all types of custom stickers, the cost per holographic sticker will depend heavily on how many you're ordering and at what size.
The material required to create holographic stickers is more expensive than traditional vinyl which usually means with all else being equal, holographic stickers will cost a little more to print compared to regular paper or custom vinyl stickers.
The cost per holographic sticker can range anywhere from $0.69 to $3.89 depending on your order details.
WHERE CAN I ORDER HOLOGRAPHIC STICKERS?
*cough cough* Right here! The good news is you're already where you want to be if you're looking to order yourself some holographic stickers.
You can submit your custom holographic sticker request here and we will get it processed for you quickly.
Sticker-it Signs and Graphics is a leader in print and promotional services throughout the Hamilton, Haldimand and Niagara regions of Ontario.
Contact us anytime to discuss your next project.