LAWN SIGNS FOR FUNDRAISING
During the spring and summer months here in Ontario, we often see lawn signs popping up all over front lawns and road side delivering all kinds of messages.
One of many uses of lawn signs is to help an organization with their fundraising campaign (including around Canada Day) or encouraging participation in an upcoming charity event.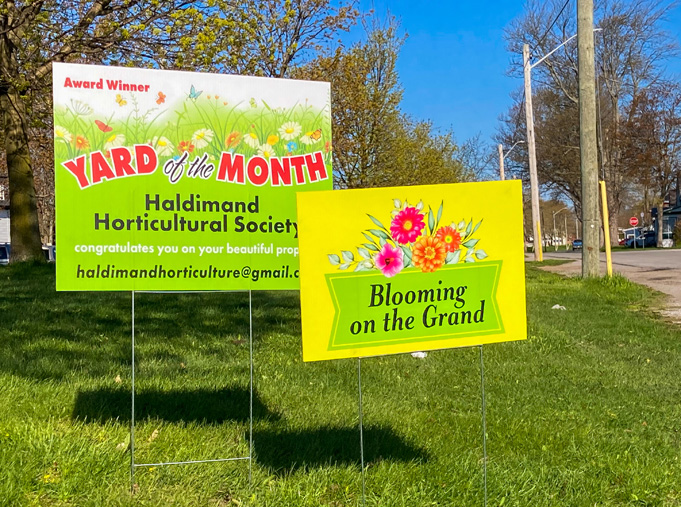 LAWN SIGNS FOR FUNDRAISING AWARENESS
The same attributes that make lawn signs so effective at advertising a business or promoting a politician also make them ideal for spreading the word about a charity event or fundraising campaign.
1\ LAWN SIGNS ARE LONG LASTING
You can start spreading the word early on with full confidence that the sturdy coroplast or poly bag lawn sign material will hold up against the elements and that the UV inks used for lawn sign printing will not fade.
If your event happens each year, design your lawn signs to be "evergreen" so they can be used for years to come.
2\ LAWN SIGNS ARE EFFECTIVE
The marketing rule of 7 states that a potential customer needs to see your message 7 times before they take action.
A strategically positioned lawn sign in a high traffic location means it will not only be seen by a large number of people, it will also be seen by the same people many times.
This works as well for generating awareness of your fundraising efforts as it does for business advertising.
3\ LAWN SIGNS ARE CHEAP
Depending on how many yard signs you order, the cost per sign can be as low as $6.50 for a double sided full colour coroplast lawn sign.
Even if you were to only buy a handful of signs, at somewhere in the $25 per sign neighborhood, they would be worth every penny due to how long lasting and effective they are.
RELATED ARTICLE: How Much Do Lawn Signs Cost?
SELLING LAWN SIGNS TO RAISE FUNDS
So here's something else to think about.
Because of their relative cheapness (more on this above) and simple to install nature, lawn signs can make for a great item to re-sell to people as a way to generate money for a cause.
We can speak from personal experience of how well this can work through our own Canada Day lawn sign fundraising efforts in past years to support the Dunnville Hospital and Healthcare Foundation.
Sticker-it Signs and Graphics is a leader in print and promotional services throughout the Hamilton, Haldimand and Niagara regions of Ontario.
Contact us anytime to discuss your next project.