HOW TO ORDER CUSTOM STICKERS
Placing an order for custom stickers on our new online ordering system is very easy! It's one of the reasons why custom sticker orders are on the rise.
In 6 simple steps, you'll have your custom stickers sent into production within minutes.
1\ SELECT CUSTOM STICKER TYPE
We offer all types of custom stickers ranging from the traditional die cut vinyl stickers (the most popular and common sticker type which are great for logo stickers) to specialty sticker types such as holographic stickers, clear stickers and hard hat stickers.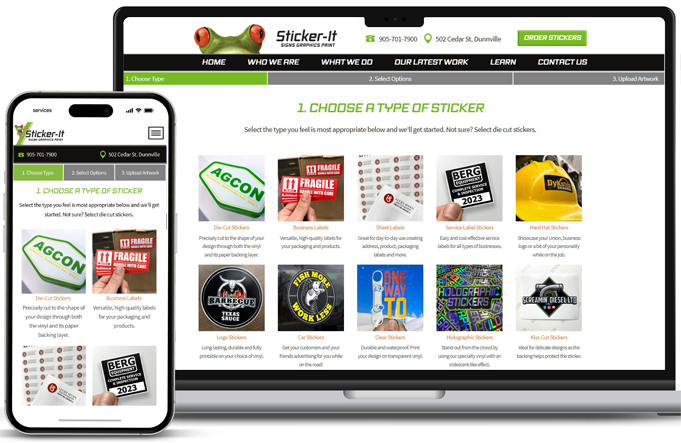 2\ CHOOSE CUSTOM STICKER OPTIONS
This is where you can choose the size of sticker you want (including custom sticker sizes) as well as material (including fancy options like glow in the dark, glitter etc.,) and how many custom stickers you want.
3\ UPLOAD YOUR IMAGE OR FILE
Now that the details are in place, it's time to choose the artwork you'd like us to turn into a custom sticker. You can upload a graphic, your business logo or whatever other custom artwork you have prepared or skip this step and have us create something for you.
We accept all popular file formats (.JPG, .PDF, .PNG, .AI, .EPS, .SVG) with a maximum file size of 50 MB and a minimum print size of 150 dpi (don't worry, chances are whatever you're uploading fits neatly within these parameters).
4\ CONFIRM YOUR CUSTOM STICKER ORDER
This step asks you to make sure everything you've chosen is in place before proceeding to checkout and payment.
5/ CHECKOUT
Enter in your mailing and billing information. This is also where you can redeem a promo code if you have one available.
6/ PLACE CUSTOM STICKER ORDER
After all payment information has been entered and accepted, click "PLACE ORDER" and you're all set! Our magical sticker elves will send you a proof for you approve prior to the sticker being sent in for printing, packing and delivery.
If you'd like to discuss a custom sticker design and order please reach out anytime and we'll be happy to help!
Sticker-it Signs and Graphics is a leader in print and promotional services throughout the Hamilton, Haldimand and Niagara regions of Ontario.
Contact us anytime to discuss your next project.